In 1973, the National Hemophilia Foundation launched a two-year campaign to establish the creation of a nationwide network of hemophilia diagnostic and treatment centers. The idea was based upon providing a range of comprehensive services for patients and families within one treatment facility. Today, there are about 141 federally-funded treatment centers and programs across the country.
The concept of comprehensive care is to treat the whole person and the family, through continuous supervision of all the medical and psychosocial aspects of bleeding disorders. Comprehensive care is total care because every facet of the person is addressed, including their physical, emotional, psychological, educational, financial and vocational factors. The development of comprehensive care over the past 30 years, has greatly improved the quality of life for people with bleeding disorders, helping them to be more independent and productive. The treatment center care network has also lowered patients morbidity and provided cost-effective care in the long term
Having a chronic disease means spending a lot of time and energy negotiating the health care system. The hematologists, nurses, psychosocial professionals and physical therapists not only help consumers with their medical care issues, but also lend tremendous emotional support. Many people with bleeding disorders use the resources of their hemophilia treatment center (HTC) for many years because the staff understands their unique needs.
Individuals who go to hemophilia treatment centers will not only find state-of-the art medical care, but also benefit from an experienced, caring staff that takes time to develop comprehensive treatment care plans for patients and families.
---
Your Local Treatment Centers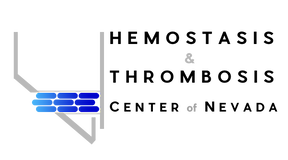 People who receive care in federally designated HTCs have lower overall health care costs, less days lost from school and work and overall, lower mortality rates than people with hemophilia who seek care outside these specialty centers. The Hemostasis and Thrombosis Center of Nevada (HTCNV), is Nevada's only federally designated HTC. The HTCNV provides diagnostic and treatment services statewide for children and adults with hemophilia, von Willebrand disease and other inherited bleeding disorders.

Treatment Center Locations: 
Las Vegas Offices
8352 W. Warm Springs Rd Suite 200
Las Vegas, NV 89113
Monday - Friday 8:00am - 4:30pm
Reno Office
6880 S. McCarran Blvd Suite 4
Reno, NV 89509
Monday - Friday 8:00am - 4:30pm
For more information visit their website www.htcnv.org or call 702-960-5991
---
---
CLICK HERE

to find other Hemophilia Treatment Centers across the country.