In 1973, the National Hemophilia Foundation launched a two-year campaign to establish the creation of a nationwide network of hemophilia diagnostic and treatment centers. The idea was based upon providing a range of comprehensive services for patients and families within one treatment facility. Today, there are about 141 federally-funded treatment centers and programs across the country.
The concept of comprehensive care is to treat the whole person and the family, through continuous supervision of all the medical and psychosocial aspects of bleeding disorders. Comprehensive care is total care because every facet of the person is addressed, including their physical, emotional, psychological, educational, financial and vocational factors. The development of comprehensive care over the past 30 years, has greatly improved the quality of life for people with bleeding disorders, helping them to be more independent and productive. The treatment center care network has also lowered patients morbidity and provided cost-effective care in the long term
Having a chronic disease means spending a lot of time and energy negotiating the health care system. The hematologists, nurses, psychosocial professionals and physical therapists not only help consumers with their medical care issues, but also lend tremendous emotional support. Many people with bleeding disorders use the resources of their hemophilia treatment center (HTC) for many years because the staff understands their unique needs.
Individuals who go to hemophilia treatment centers will not only find state-of-the art medical care, but also benefit from an experienced, caring staff that takes time to develop comprehensive treatment care plans for patients and families.
---
Your Local Treatment Centers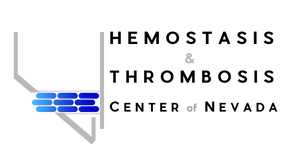 People who receive care in federally designated HTCs have lower overall health care costs, less days lost from school and work and overall, lower mortality rates than people with hemophilia who seek care outside these specialty centers. The Hemostasis and Thrombosis Center of Nevada (HTCNV), is Nevada's only federally designated HTC. The HTCNV provides diagnostic and treatment services statewide for children and adults with hemophilia, von Willebrand disease and other inherited bleeding disorders.

Treatment Center Locations: 
Las Vegas Offices
6450 Medical Center St
Las Vegas, NV 89148
M and Th 1-5pm, Fri 8-5pm
2904 W. Horizon Ridge Pkwy Suite 200
Las Vegas, NV 89052
Tues 1-5pm, Wed 8-5pm 
Reno Office (Clinics starts 11/21/17) 
5301 Reno Corporate Dr
Reno, NV 89511
Mon-Fri 8-4:30pm
For more information visit their website www.htcnv.org or call 702-960-5991
---

The Hemophilia Treatment Center provides diagnostic and treatment services statewide for children with hemophilia, von Willebrand disease and other inherited bleeding disorders, with a wide range of services for those affected by inherited bleeding and clotting disorders, including those listed below.
Diagnostic Evaluations for Hemophilia A and B
Diagnostic Evaluations for Von Willebrand Disease
Diagnostic Evaluations for Rare Bleeding Disorders
Comprehensive Clinics
Pharmacy
Annual Comprehensive Physicals
Clinical Trials for New Therapies
Coordination for Primary Care Physician
Emergency Consultations
Hematologic Management for Surgeries, Dental Procedures and Childbirth
Transfusion Services (at home and in the clinic)
Patient and Family Education
Social Work Assistance with Complex Diseases
Treatment Center Locations: 
Las Vegas Office
3121 S. Maryland Parkway
Suite 206
Las Vegas, NV 89109 
Ph: (702)732-1956
Reno Office
540 Plumb Lane, Suite 200
Reno, NV 89509
Ph: (775) 657-8981
Click here for the Hemophilia Treatment Center of Nevada's Website
The treatment centers not only provide specialty care but can also act as a resource to your regular family physician or dentist.
Members of the care team at HTCs include:
Hematologists—specialists in blood disorders.
Pediatricians—specialists in caring for infants, young children, and teenagers.
Nurses—medical specialists in hemophilia care. The nurse is probably the person you will see most frequently.
Social Workers—specialists who assist you with the issues of daily living, such as adjusting to hemophilia and locating resources (e.g., insurance, transportation, housing, etc.).
Physical therapists—specialists in activity, exercise, and rehabilitation.
Orthopedists—specialists in disorders of the bones and joints.
Dentists—specialists in disorders of the teeth and gums. The dentists at HTCs are experts in treating children with oral bleeding problems.
You are also an important member of the treatment team. The staff needs your input to develop a plan of care that will ensure your remain healthy, active, and able to live successfully with added challenge of hemophilia.
---
CLICK HERE

to find other Hemophilia Treatment Centers across the country.