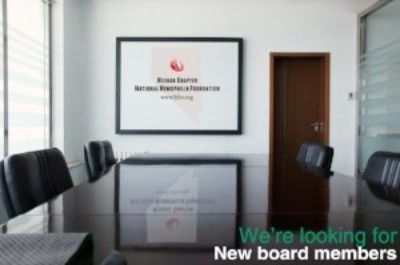 ---
Chapter Advisory Board
Our board represents a cross-section of our community and is an advocate for the bleeding disorders community. The members work hard to ensure long-term sustainability of the organization so that the funds raised directly affect results.
President
Dr. Chad Warren

Vice President
Steve Findley

Secretary
Kammy Kinkade

Treasurer
Daigo Ishikawa

Board Members
Renee Duran
Jamie Coutts
Dr. Chad Warren, President

Dr. Chad Warren currently serves as the President & Chief Philanthropy Officer for the St. Rose Dominican Health Foundation. Prior to this, he served as vice president and consultant for Ruffalo Noel Levitz (RNL), a recognized leader in strategic fundraising. Warren served as the senior associate vice president for philanthropy and alumni engagement at the UNLV and the executive director of the UNLV Alumni Association. Before UNLV, he was an assistant vice president at The Ohio State University, executive director at the University of Dayton, director of annual giving at Florida State University.
He enjoys spending time with his family, attending concerts, and traveling the world in his free time. He received his undergraduate degree from Dayton, an MBA from Saint Leo University, and a Doctorate of Public Policy at UNLV.

Steve Findley, Vice President

Kammy Kinkade, Secretary

Kammy is a native of northeastern Nevada and a member of the bleeding disorders community. She currently works in EMS as an Advanced Emergency Medical Technician, responding to emergencies and serving the same community she grew up in. Working in the medical field, specifically in emergency medicine, having bleeding disorders, and being part of that community, Kammy works to bring awareness of bleeding disorders to other medical professionals in her area as well as acting as an advocate for her patients. She holds an associate's degree in Science, and a bachelor's degree in Biological Sciences, and is pursuing her Associate of Applied Science - Paramedic degree. Kammy spends much of her free time volunteering as an instructor with 4-H shooting sports, but she also enjoys time with her friends, cooking/baking, traveling, reading, hiking, and kayaking/paddleboarding.

Daigo Ishikawa, Treasurer

Daigo Ishikawa has worked in the nonprofit sector of Nevada for nearly ten years. As a senior project manager of real estate development for Nevada HAND, Nevada's largest affordable housing provider, he has helped create thousands of affordable housing apartments for low-income seniors and families in Southern Nevada. Daigo has over 15 years of experience in corporate finance and real estate. He has a bachelor's degree in finance from the University of Illinois Urbana-Champaign and a master's degree in urban planning from the University of Melbourne (Australia). Daigo served on the board of the Young Nonprofit Professional Network (YNPN) of Southern Nevada for four years, serving as the treasurer for one year and board co-chair for two years. In his free time, Daigo plays tennis, enjoys traveling and searching for the next greatest meal.

Jamie Coutts, Advisory Board Member

My name is Jamie Coutts. I'm a wife and mom to 3 kids. I am a spontaneous carrier to Hemophilia A. Through testing in 2016, we found out that myself, Connor and Cora have Hemophilia. We have learned so much and we have advocated in Carson City and Washington days! We love to share our story and will continue to do so for as long as it takes. I joined the board in late 2021, and I hope to be able to learn and spread more awareness of this rare disorder. I'm a busy mom these days, so I don't have a lot of free time, but when I do, I just love hanging to out with friends and family. My favorite color is purple and my favorite animal is an Orca (Killer) whale. I would LOVE to go whale watching someday!

Renee Duran, Advisory Board Member
---
Chapter Staff
Our staff is committed to make sure your voice is heard. If it concerns our cause, rest assured our staff is on it.
Danielle Bell, Program Manager



Danielle is a native of Nevada and has over a decade of family and youth-centered program development, volunteer management, and facilitation experience in a variety of settings. As a trained facilitator in anti-violence education and prevention programs, she is an advocate for children and youth and dedicated to helping create healthy and safe spaces for organizations and individuals working with children. She has a long-time professional background as a performer, musician, and storyteller, and looks forward to engaging the creative side in how we learn, work, and play together in the community. A big proponent of self-care, Danielle likes to get outdoors, play music with her band The Unwieldies, and especially loves expressing herself in the kitchen and sharing food with others.

702-564-4368 Ext 302
dbell@hemophilia.org

Stephanie Dupree, Development Manager



With over 5 years of nonprofit development experience in Southern Nevada and a decade of leadership and event planning experience in higher education, Stephanie will lead the Nevada Chapter's donation campaigns and fundraising events, including the annual UNITE for Bleeding Disorders walks. Originally from the Pacific Northwest, Stephanie holds a bachelor's degree in International Relations from Hawaii Pacific University and an M.A. in Postsecondary Educational Leadership from San Diego State University. In her free time, Stephanie enjoys reading, live music, and spending time with her family.

702-564-4368
sdupree@hemophilia.org

Jacob Murdock, Executive Director



Jacob joined the Chapter in 2021. Originally from Denver, he has lived in Southern Nevada since 2006. He brings experience in volunteer management, outreach, youth programming, and education. Jacob is a dedicated volunteer serving on the Associate Board of the Anti-Defamation League of Nevada, along with volunteering at Camp Anytown, Q3 Student Partners, The Young Non-Profit Professional Network, and Directors of Volunteers in Agencies (DOVIA). Jacob holds a bachelor's degree in Political Science from Fort Lewis College, an M.Ed. in Higher Education Leadership from the University of Arkansas, and an M.S. degree in Political Science from the University of Nebraska, Omaha. In his free time, Jacob likes to spend time with his family, hike, and camp throughout Nevada and Utah, and see live music across the country.

646-901-6442
jmurdock@hemophilia.org
---