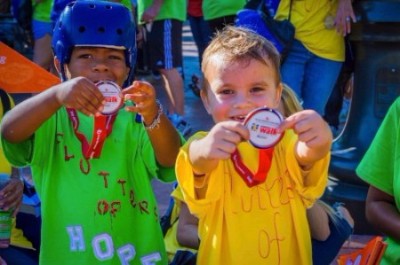 2018 Nevada Unite for Bleeding Disorders Walks
Click to register for the Las Vegas Unite for Bleeding Disorders Walk at Floyd Lamb Park
Saturday September, 15, 2018
Click to register for the Reno Unite for Bleeding Disorders Walk at Bartley Ranch
Saturday, September 22, 2018
For our 2018 walks, we unite as a community to raise awareness for all bleeding disorders. Everyone walks for a reason, whether it's in support of a loved one, friend, parent, child, or in memoriam, yet this event is so much more than just a walk. It creates a chance for community members to reach out to their friends, families, and larger communities to raise awareness for bleeding disorders.
The walk is both a fun day and a fundraiser! While every step helps raise awareness, every dollar helps us continue to provide resources to the bleeding disorders community such as educational programs, advocacy, financial assistance, and our camp for kids, Camp Independent Firefly. Our walk will feature breakfast, music, a photo booth, and more for you to enjoy before and after the 5K or 2K Walk Courses.
Our goal this year is to raise $100,000, and we can't do it without you! Create a team. Join a friend's. Unite your friends, families, neighbors, and co-workers together to not only raise funds but raise awareness for bleeding disorders. And if you're unable to attend the walk in person, we invite you to create a virtual team and join us live via social media during our walk. 
We can't wait to see you there! 
All proceeds from both walks benefit Nevada families.