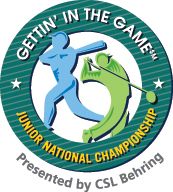 Do you like baseball, golf or swimming*? Are you between the ages of 7–18 and have a bleeding disorder? Would you like to travel to Phoenix, AZ for a weekend of baseball, golf or swim clinics for FREE? If you have answered yes to the questions above, "Gettin' in the Game" Junior National Championship presented by CSL Behring may be for you!
NHF Nevada can nominate two youth, for either baseball, golf, or swimming* for this program. CSL Behring will pay all travel costs and meals for the patient and one caregiver. A caregiver must accompany child.
NHF Nevada will hold an essay contest for all who qualify and would like to participate. If you interested in attending the "Gettin' in the Game" program submit an essay on one of these topics:
What lessons have you learned through your experience of having a bleeding disorder or how have you given back to the bleeding disorder community?
Please indicate if you are interested in the baseball, golf or swimming* program. Include your name, age, diagnosis, address, phone number, email address, and your parent or guardian's name.
*Swimming participants must be able to swim 25 yards without assistance (no stopping or holding onto walls etc.)
Deadline to submit your essay is July 25th 2019
Mail to
NHF-NV, Gettin' in the Game Essay Contest
222 S. Rainbow Blvd Suite 203
Las Vegas NV 89145