Peer Support Group (In Person-Southern Nevada)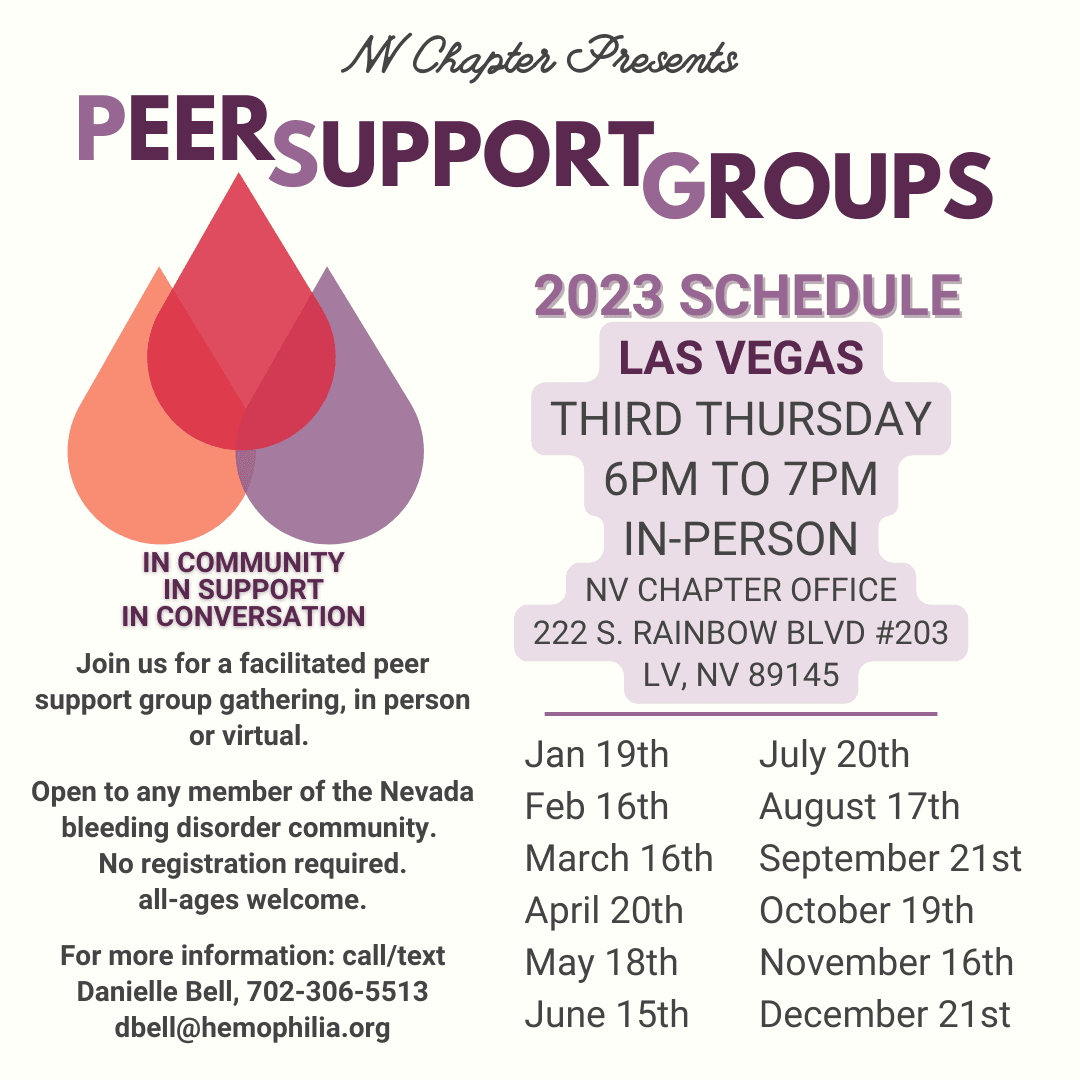 Join us every Third Thursday of 2023 for in-person PEER SUPPORT GROUPS. Las Vegas location, NV Chapter Office.
WHAT ARE PEER SUPPORT GROUPS?
Support groups - also often referred to as self-help groups - are groups of people who gather to share common issues and experiences associated with a particular problem, condition, illness, or personal circumstance. In a support group, people are able to talk with other folks who are like themselves - people who truly understand what they're going through and can share the type of practical insights that can only come from firsthand experience.
WHO MIGHT YOU FIND AT A NV CHAPTER PEER SUPPORT GROUP?
They are made up of peers - people who are all directly affected by a bleeding disorder, whether it be a caregiver, parent, sibling, spouse, friend, or person living with a bleeding disorder.
HOW DOES A NV CHAPTER PEER SUPPORT GROUP WORK?
They will be facilitated by a staff member or trained volunteer.
As people arrive, we may break into smaller groups to ensure everyone has a chance to talk. We do agree as a group to follow guidelines to ensure a safe, productive, and confidential experience. Children and youth that attend will have their own group space.
WHEN DO NV CHAPTER PEER SUPPORT GROUPS HAPPEN?
In 2023, support groups are scheduled once per month to gather in person, and once per month to gather virtually, see website calendar. No registration is required, and people can drop in and attend in person or virtually anytime.