The Overnight- Teen Camp Session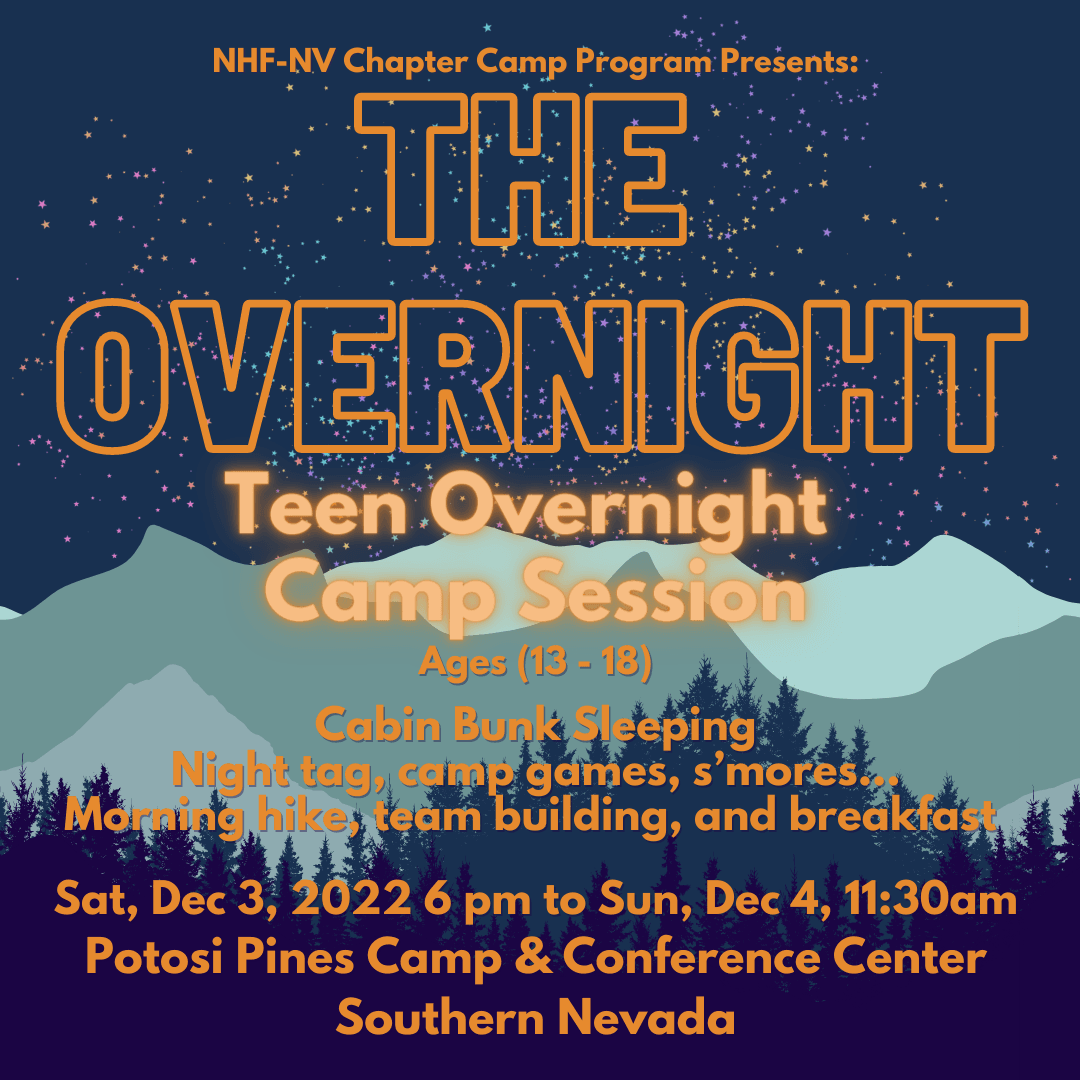 The Overnight Teen Camp on Saturday, December 3rd to Sunday, December 4th.
After the Annual Meeting, teens (ages 13 to 18) will have the opportunity to stay overnight at the Potosi Pines Camp & Conference in the facility's rustic camper cabins.
Teens must be registered for Annual Meeting to participate in The Overnight. Registration link for Annual Meeting below.
Campers and their adult advisors will enjoy a fun evening and morning in this beautiful camp setting.
Some activities include
• Night tag, camp games, s'mores, and cabin sleeping
• Morning hike, team building, and breakfast
UPDATE ON COVID SAFETY GUIDELINES FOR THE OVERNIGHT
• Covid Vaccinations will not be required but encouraged.
• Masks are not mandatory yet will not be discouraged.
• All overnight attendees will be required to take a Covid test upon arrival at registration on Dec. 3rd
• Any positive test or symptomatic camper will not be allowed to remain for the overnight.
You will need to provide the following information.
• A copy of the camper's immunization records- the following immunizations/vaccinations are required: DTap (Diphtheria/Tetanus/Pertussis), MMR (Measles/Mumps/Rubella), Measles, Varicella (chicken pox), Polio, Hepatitis A & B
• A copy of the camper's insurance card- both front and back
• A list of ALL medication (factor, other prescriptions, over-the-counter) that your camper takes
TRANSPORTATION NOTE:
Parents/Guardians will not need to pick up their camper at Potosi Pines. Campers will be returned to a designated meeting spot by 12:30pm, Sunday, December 4th for camper pick-up. If parent/guardians wish to pick up their camper at Potosi Pines, please let us know at time of event so that we can make arrangements.
Overnight Packing List:
• Sleeping Bag/Pillow (all cabins are equipped with padded mattresses)
• Flashlight
• Water bottle
• Closed Toe Shoes
• Warm Clothes for Night
• Necessary overnight medications